Runners, joggers, walkers, sponsors and supporters please support Brussels largest annual running event and raise money for the Lénaïc Fund for Quality Journalism*.
We have a number of guaranteed places. If you would like to join our team, please contact us as soon as possible at brussels.20Km@lenaic.eu

Registration, which includes the Lénaïc t-shirt, costs €30 per participant. All team members are strongly encouraged to raise extra funds through individual sponsorship.
Sponsors and supporters: we will soon provide details on how you can make your valuable financial contribution. Alibaba and UPS have already given generous support. We are confident, with your help, we can build on the foundations they have laid to further boost the fund's ability to help young female journalists.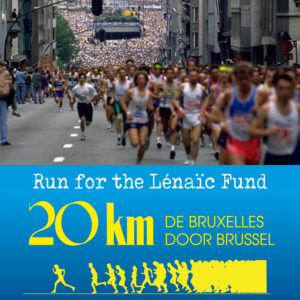 *The Lénaïc Fund for Quality Journalism provides five-month training programmes for recent women graduates to obtain practical journalism experience in Brussels working on regulatory and political news. The fund was set up in memory of Lénaïc Vaudin d'Imécourt, a noted trade journalist who passed away from cancer at the age of 28.