July 18, 2018 | My last post
It feels exceptionally good to be in Brussels this summer: maybe it's because of the weather (uninterrupted sun for weeks!), the Red Devils team getting to the World Cup semi-finals or simply the prospect of approaching holidays.
In these sunny days, my thoughts often go back to the cold Polish winter when I made the decision that eventually led me to enjoy July sun not in Warsaw but in the Belgian capital. The decision to apply for the third fellowship of the Lénaïc Fund for Quality Journalism.
Back in winter, I had many doubts about participating in the programme: should I leave my full-time job to give myself a chance to start a career in Brussels? Should I drop everything I have in Warsaw and move to the other side of Europe? And finally, are my skills high enough to handle the task.
I imagine that today other young female journalists across Europe are asking themselves similar questions, as the deadline for the fourth Lénaïc Fellowship is approaching this week. If you're one of them, let me give you three main reasons why  I am convinced it was a great call – if your doubts are stopping you from applying, you might miss out on a truly amazing adventure.
I've grown as a reporter – are you familiar with the concept of internships where you make coffee, sit idly for hours waiting for any task and your colleagues don't even know your name? Well, I am, too, and I can assure you that what I have experienced in the last five months have been far from that. At MLex, I've been fully engaged in the newsroom life literally from the day one. I've been given a lot of freedom but my colleagues have always been there  for me when I needed help. I am very proud to see how much progress I have made over this time and how much I have learnt.

I experienced what I only had known from books – there are certain institutions, events and terms that all European affairs students are familiar with, but only a few have chance to use or see them in practice. Working as a journalist in Brussels, I have become an element of institutions and processes that I had learnt about at the university: the European Council summits, the European Court of Justice hearings, EFTA Court seminars, parliamentary sessions.

I have lived a great adventure – a five month placement is not only work: I've met fantastic people and have used my time abroad to the fullest. Brussels is extremely welcoming to newcomers and life here involves summer parties, after-work networking, and weekend trips around the country. As a fellow, I could always count on support and help from the fund coordinators – especially Aulde and Charles – as well as all MLex colleagues.
Looking back, I think these five months have given me everything I needed back in winter days: the feeling of inclusion, empowerment and doing meaningful things. I am extremely grateful for the Fund for giving me this opportunity. And I'm a bit jealous of a next fellow, who is having this adventure ahead of her. Hope to see you around in Brussels soon!
---
May 7, 2018 | My first post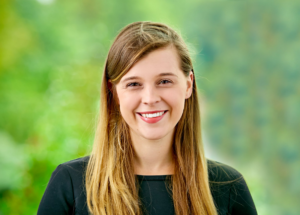 Reporting experience in Brussels was always one of my "unlikely to achieve in foreseeable future" goals. Finding a job in quality journalism has been hard enough, and doing it in Brussels, where every job vacancy is immediately filled with hundreds applications of overqualified candidates, seemed to be a mission impossible.
But I knew that many career success stories are not determined by fine education and previous work experience but rather rely on another factor: luck. And my luck came with an email from the Lénaïc Fund saying that I had won five months reporting placement in MLex, one of the Brussels newsrooms.
I am still out of words to express how thankful I am for this opportunity.
MLex is an international regulatory newswire – its journalists all around the world report on important regulatory changes and antitrust decisions that impact markets and businesses. MLex journalism represents what I think is the best side of my career: high quality content, meaningful and well-balanced news, and focus on subjects that really matter. From the beginning I knew we were a match made in heaven. I hope that today the other side thinks so too!
There are many things that differ my current placement from the internships I participated in before. Above all, I have been granted unparalleled freedom and trust. I have been assigned to one of the hottest beats in Brussels: Brexit. I find myself extremely lucky to be able to follow so closely one of the biggest political and economic stories of this decade – even if it gets pretty depressing sometimes.
I don't only help out more experienced reporters, I actively learn how to become one. I get no special treatment: everyday, I interview officials and experts, go to press conferences, find and write my own stories and contribute to the work of others.
Last but not least, I have a chance to work with really exceptional people: extremely knowledgeable and experienced on the one hand, and helpful and understanding on the other. From the very first day they have made me feel like a part of the team. 
I have been engaged in the activities from the day one, when I was following the press conference of David Davies and Michel Barnier, two Brexit negotiators, who finally reached an agreement over the conditions of the UK leaving the EU. I was not even able to use my email properly and yet, I was immediately sent to my first press briefing and asked to write my first story. It might sound crazy but this is exactly the kind of dynamism I love about journalism.
The first weekend of my stay in Belgium was not any less exciting – thanks to great thoughtfulness of  Lénaïc's parents, Aulde and Charles, I could attend "Revue de Presse", the annual sketch night of Brussels journalists and press service. Even though some of my colleagues joked that one should have lived in Brussels for at least two years to understand the geeky humour, I couldn't enjoy it more.
Apart from day-to-day job, I have also experienced two absolute highlights of my placement: I fulfilled my long-time dream and contributed to the coverage of the March summit of the European Council and also went to a one-day trip to the European Court of Justice in Luxembourg where I was learning how to cover court hearings. This level of excitement is only understandable for people who studied the European affairs for six years from textbooks, as I did, and could finally witness the European law in the making.
Two months in, everything is still very dynamic and new but I am slowly getting a feeling that I have more control over things: I know who to call when the news breaks, where to eat my lunches, and which events to avoid. Nevertheless, news never cease to surprise me and every day I wake up with a feeling that the day is about to bring something new, exciting, and educational.
As clearly outlined above, the Lénaïc Fellowship provided me with an incredible job placement – but there is so much more to that! Above all, it has created a whole platform that has made it so much easier for me to set off, composed of the feeling of belonging, support and empowerment. It has gathered amazing people who have been always there for me to help or advice.
And at the end of the day, this is what makes it so special.