March 20, 2019 | My last report
My time as fourth Lénaïc fellow and traineeship have come to an end, but I won't be leaving POLITICO yet as I have signed a temporary contract, starting this week. I will continue covering latest news and the European election, and I am much looking forward to it. It's an exciting time to be in Brussels.
Over the past five months, I have learned a lot about EU politics and grown as a reporter. From talking to leaders about their parties' strategies or looking into Brexit contingency, I covered a wide-range of topics and had the opportunity to talk to many people.
Some of the highlights from this period have been launching a podcast about women and the EU election, co-authoring a weekly newsletter about the election, and seeing a long list of European leaders like Theresa May and Angela Merkel during (endless) press conferences.
When I spotted the fund's call for applications, now almost half a year ago, I wasn't sure whether to apply. I had applied the previous year, but hadn't been selected for the interview round. But I decided to give it another go and fortunately, I was selected this time around!
I feel very lucky to be in this position. I know it can be tough to find a job in Brussels as a young journalist. And I might be in that position at some point again. But now I know that I have at least more experience and skills to showcase.
Without the support of the fund, I would have never had this opportunity. I would, therefore, like to thank all the sponsors for supporting the fund. My colleagues, and in particular Ryan Heath, for taking me under their wings and showing me the ropes.
But most importantly, I want to thank Aulde and Charles Vaudin d'Imécourt, Lénaïc's loving parents, who work extremely hard to uphold the fund; from selecting candidates, to spreading awareness of the fund, and checking in once in a while to see if we are surviving the Brussels' weather.
Two weeks ago, the new fellow started her placement at MLex, so you keep an eye on this space to hear from her soon. And for all young women thinking about applying to the fund, I can wholeheartedly recommend it.
January 12, 2019 | Mid-point on my fellowship
After one and a half weeks of vacation, which involved a lot of family time, food and sleep, I am back behind my desk in Brussels. Although the news cycle is at full speed again, it's good to take stock and reflect on the past weeks as I am already half-way through my fellowship.
The first two and a half months of my time as fellow of the Lénaïc Fund for Quality Journalism and placement at POLITICO went very fast. Since my last blog entry, I have written some longer pieces in addition to shorter news articles. I have also worked on a number of other projects, such as a podcast on the role of women in the next European election in May.
During the last three weeks of 2018, I substituted for a colleague in putting together a daily newsletter about Brexit. It was a great opportunity to gain more knowledge about the complex and intrinsic mechanisms of this historic event – especially considering all the things that happened those weeks, including the postponement of the crucial vote on the Brexit bill and a no-confidence vote in Theresa May.
Two and a half months into my placement, I have noticed that I write quicker, pick up the phone with more confidence and have a deeper knowledge on a range of EU-related topics. I can only hope that in the second half of my placement, I will develop even further as a reporter.
Some of the points and skills I want to focus on in the new year are making better use of the many events organized in Brussels by EU enthusiasts, lobby groups and organizations. I would also like to improve my interview skills by reaching out to people to set up longer interviews.
The deadline for the next Lénaïc Fund fellowship closed recently and I received a lot of questions from people who were keen on applying to the fund. It was great to chat with other young, female reporters about journalism and working around the EU institutions. I hope the visibility of the fund will continue growing, as I wish many more young women to be offered the opportunity to kickstart their career in Brussels.
I wish those who have applied to the fund the best of luck and I look very much forward to meeting the next recipient.
October 10, 2018 | My first post
It's been over two months since I learned that I would be the fourth recipient of the Lénaïc Fund for Quality Journalism, and I still feel as fortunate and thankful today as back then. When I heard the news – after anxiously checking my email every five minutes for a couple of days – I was thrilled, but also anxious as to whether I would be able to fulfill the expectations as representative of the fund. That anxiety hasn't completely faded, but fortunately it diminished over the great experiences and people I have met since I received that lucky email.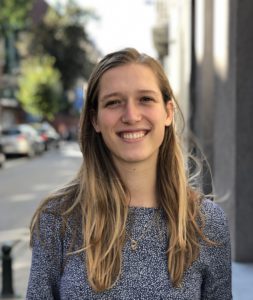 Four weeks ago, I started my placement at POLITICO. I had moved to Belgium six months prior to work part-time at a Japanese newspaper. Here I tried to understand the complex structure that makes up the EU, and I would often turn to POLITICO for help. I am still trying to wrap my mind around all the institutions, rules, and people that make up the EU, but now I am surrounded by extremely knowledgeable and experienced people to guide me.
The first two weeks I was assigned to the breaking news team, which involves following the news closely and writing a short article if something relevant happens. Now that I am a bit more settled into my new work environment, I am working on other projects as well. I helped, for example, writing this year's women shaping Brussels list and I regularly contribute to the EU decides blog. In the coming weeks, I will be working with political editor Ryan Heath on some projects in the context of the European Parliament election next May.
Contrary to previous internship experiences, I am given plenty of work and trust. As a result, I feel I have already gained new skills and experience, despite only being one-fifth into my placement. So far, every day has been different: One day I am contributing a live-blog during the EU Council Summit, the other I am interviewing British MPs or following a debate between MEPs about LGBTI-rights.
What has definitely helped me to feel comfortable and confident while getting used to the new workload and environment, is that everyone in the office has been very helpful and kind. Lénaïc's parents and former beneficiaries of the fund have also been great supporters by offering endless advice and warm words.
It feels strange sometimes to be present at a place because of another person's absence. Last week I was talking to a colleague at POLITICO who told me that she had known Lénaïc from her previous job. Those moments make me even more aware of how lucky I am to be here and I cannot express enough how grateful I am for this opportunity.
If you want to see what I am doing, you can follow me on Twitter or join my journey on Instagram.